Raining Rats in a Popular Food Chain in Texas?
Recently, a popular food chain that we all know had quite a situation on their hands.  During hours of operation,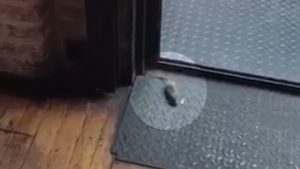 rodents were filmed scurrying about the restaurant.  A true nightmare for any business — let alone one in the food industry with customers present holding their camera phones with immediate access to social media.  This is the climate in which we live and operate our businesses.  It is a climate where cleanliness reigns supreme and where green solutions are of the highest importance.  Nature's Defense is emerging as a serious player in the rodent control world.  Providing a green and organic solution, Nature's Defense is ideal for repelling rodents particularly in situations surrounding the restaurant field. Look into Nature's Defense to keep rodents out permanently.
This restaurant location had 3 years of food inspection success
This specific location had an impeccable cleanliness record, according to the newspaper, yet one incident could be disastrous. Consumers implicitly place a great deal of trust when entering your business.   Any lapse or breakdown can lead to a loss in customer trust and push them to go elsewhere.  According to an article from Business Insider, 43% of customers for this restaurant are repeat visitors — quite a large percentage.  An even larger percentage is the 57% of their customers visit a little less frequently.  That creates a very delicate situation in terms of upsetting consumer trust.  More than half of its customers are theoretically more temperamental in terms of giving their business to this restaurant.  It could take one incident such as this, and 57% of your business may choose other options.
Pest control professionals found a crack in the foundation
Below is a checklist for diagnosing potential points of access or rodent habitat that may be near your business. Look into Nature's Defense to keep rodents out permanently.  Nature's Defense Rodent Repellent is fundamentally different than poisons or traps. Stay ahead of the problem with Nature's Defense by doing the following:
Repair gaps and/or cracks on the outside of your business

Remove any debris, garbage, vegetation from around the exterior of your business

Locate interior problem areas and use Nature's Defense Rodent Repellent packets to drive rodents out

Apply Nature's Defense loose granules around the exterior of your business to keep rodents out
Learn more about Nature's defense at www.natures-defense.com.  Learn more about what the Weiser Group, LLC has to offer at www.weiseroutdoorgroup.com.